This post walks you through a home spa day (and night) that will give your outlook a lift and your body a refresh!
This site contains affiliate links to products. We may receive a commission for qualifying purchases made through these links at no additional cost to you.
For most homemakers, there are not many opportunities to simply relax alone at home. So when this rare situation presents itself you need to make the most of it! In this post, you're going to get a game plan of exactly what to do to have a home spa day.
Since I know many of you are givers to EVERYONE, let me remind you of the importance of self-care. You can't keep giving the best to the people who matter most to you unless you regularly recharge yourself. This isn't an indulgence, it's a strategy to be your best giver for as long as possible!
It's not a bad idea to let this post "accidentally" slip into the hands of your family or potential gift-giving others. This is an amazing gift idea for Mother's Day, a birthday, Valentine's Day, or really any day when a little escape from the world is in order. You deserve it!
There's a lot of purchases suggested, which may seem like a huge extravagance. But if you reframe the context and consider the cost of one treatment at a beautiful spa you'll discover the economics make more sense. This way, you'll even be able to duplicate this ritual without incurring any additional expense!
First Your At Home Spa Setting
It's almost impossible NOT to notice the change in pressure when going into a spa. It's like the world has given a huge exhale releasing all sorts of tension. This is obviously no accident. The treatments they provide wouldn't make nearly the impact on your experience if this wasn't the case. You need to replicate this at home.
No eye rolling … the house has to be clean! Yes, top to bottom clean. This is essential. You can't relax properly in a mess of clutter and dirt.
Many of us find a great satisfaction from getting through cleaning of the entire house. This totally amplifies the effect of what's to come with your at home spa day.
If you can do without the cleaning high then hire a service to come for a day. Or, in the rare instance that your family are thorough cleaners, they can do it as part of their surprise for you. Better bet, hire a really great cleaning person and go for coffee with a good book (or you iPad so you can read this blog) for a couple hours until the house is ready.
Ready also means that the family (including pets if possible) are gone! Vacant! Out of there!!
Touches Make all the Difference for Your Home Spa Day
The little details that catch all of our senses make all the difference. This is what will help to make your ordinary bathroom a retreat for your at home spa day.
An arrangement of fresh seasonal flowers, gentle music playing on a good quality speaker or Echo (aka, Alexa), freshly cleaned fluffy towels, a plush bathmat, and a subtle yet aromatic candle burning.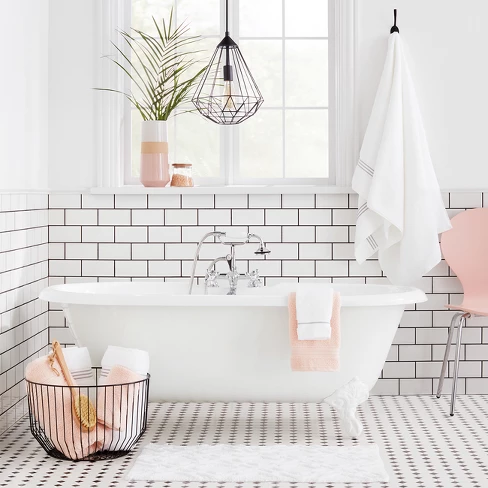 I recommend some gentle jazz. Spotify has a great playlist to try if you like this idea.
Even if your space is limited, use scaled down versions to add all of these sense awakening features.
Start With a Luxurious Soak
Preparing the mind takes more than just a mental shift, it takes time to allow the nerves to adjust to the calm surroundings. This is why spas have relaxation rooms for you to wait in before your treatment. No loud sounds, no talking, soft gentle music playing.
To prepare for the start of your treatments, pull your hair up in a scrunchie and wash your face with a gentle cleanser. Pour the tub with slightly hotter water than you can handle (it will cool down) and a bath bomb. Then set up your bath tray with an exfoliating face mask, body scrub, callus stone, and refreshing beverage. Have your plush towel at the ready nearby. Set a gentle timer on your phone for 25 minutes making sure to change the alarm sound to something gently awakening (Ripples on the iPhone at a low level is nice).
First thing in the tub is to apply a facial exfoliator and body sea salt scrub. Sit and relax for a while as these settle in and your skin softens. After about 10 minutes use the callous stone to scrub the heals and other tough areas of your feet.
Keep a small towel handy to wipe your hands off, especially if you're trying to read or sip your drink.
When your timer goes off, drain the tub and transition to the shower.
Move on to Soothing Shower
Now that your nerves have adjusted to this slower, laidback pace, it's time to treat your hair and skin to a few layers of pampering. First, rinse off your facial exfoliant. Wash your hair following with conditioner. After you've rinsed the conditioner off apply a hair mask all over and then comb through. Clip up your hair if it falls below your shoulder.
Dry your hands and face and apply a hydrating Vitamin C mask to help your skin glow. You'll leave this on until just before you turn off the shower.
The sea salt scrub you applied in the tub may have been a bit waxy so we're going to use another, more gentle, exfoliating scrub wash to remove all of the dead skin cells. The eucalyptus and spearmint aromatherapy is really great too. Take your time to really massage it in using a cotton exfoliating washcloth washcloth all over your entire body.
While you're enjoying the warm shower and letting the mask do its magic, take time to shave and clean your lady parts so you're feeling fresh all over!
After the hair and facial mask have had about 10 minutes to sit, it's time to rinse off. Don't worry, there's still more pampering to come!
After drying off, apply a body mouse and body cream all over your body. Bath & Body Works makes a very nice smelling one in Rose. Now get on your cozy, plush robe and wrap your hair in a super absorbent hair turban before heading over to the sink.
Home Spa Day Skin is No Joke
Just a little tangent for some upkeep, take a minute to push away your cuticles (both hands and feet) while they're still soft from the shower.
Now it's time to start a skin ritual that you should keep on a regular basis. Set up your most comfortable chair with a beverage and reading material. Make sure you are still taking advantage of your candle and music. We're still in your at home spa after all.
At the sink, apply your collagen eye patches or sheet mask if you prefer. Now time to relax in your chair reading or napping for a bit. Set your alarm for the duration your eye patches or sheet mask instruct. You don't want to leave them on too long.
Remove and rub in the residue from the mask into your face but remove the residue from the eye patches. Roll your face and neck gently with a microneedle roller (make sure to spray it with rubbing alcohol when finished). Apply a hydraulic acid serum to help your skin look young and refreshing toner. Follow with eye and face moisturizer.
Your face might tingle a bit but it should feel amazing!
Like anything applied topically, some of these products might not suit your skin type. Be careful and rinse immediately if you feel burning or stinging.
Time for the Hands and Feet to Get Their Due Time at the Home Spa Day
Another quick upkeep to-do, put your eye gel pack into the freezer. It should only be in there for an hour.
Slip on your new and incredibly adorable plush slippers following up with toe separators. The separators might feel really weird at first, almost painful. They're great for your foot health and also handy for giving yourself a pedicure.
Move on to making those sweet little piggies and fingers pretty with a base coat, nail polish, and top/shine coat. Start with the toes and then the fingers.
While you're waiting for the polish to dry, indulge in a treat and maybe a glass of wine. Watch a show that you never seem to get to with everyone else around or read a good book. The key is to chill out completely. Imagine you're back in the luxurious relaxation room of your home spa.
Bedtime Means a Special Night of Recuperation
Treat your hair again with heat protectant and hydrating shine oil then blow it out so you're not sleeping with wet hair. A total hack to blow drying quickly is to dry your roots traditionally and then use the Revlon One-Step Hair Dryer & Volumizer for the rest. Yes, it may appear gimmicky but it really works great!
After brushing your teeth, apply eye lash and brow enhancement serum. Start doing this nightly to help keep your lashes long and thick. This seems to be a challenge as we age. Then apply your neck and forehead anti-wrinkle patches. You'll keep these on all night long!
Climb in bed with your cool eye gel mask in place and lean up on your new silk pillowcase. Relax this way for another 20-30 minutes. You can then drift off with your body feeling better than it ever has thanks to your self-care at home spa day.
Open Up Your At Home Spa for Special Guests
Self-care isn't an indulgence. It is a strategic choice to be happy and share that happiness with others. When you feel amazing you'll want to spread that feeling. Martyr syndrome has had its day. Find your happiness without guilt.
The thing is that since you've experienced your own at home spa day, you'll want to treat others to the benefits. What a great treat for a spouse, partner, or older child (modifying treatments based on age). While leaving home for a luxury spa retreat is fantastic (I'm in!), there's a special kind of pleasure that comes from being able to be in your own nest and drift off with a clean house, rejuvenated body, and relaxed mind.