I'm definitely going to offend some people (sorry in advance). This post includes the best of the web in the DIY patriotic shirt category for 4th of July – or any national celebration. The offensive part is that none of them look like you're heading off to the State Fair. More like you're spending the day at a Country Club cookout. Sorry, but preppy with a hint of the trendy hip is how I roll.
The reason behind this research is that I want to make my own patriotic shirt and shorts outfit and need to spark my creative juices. I'm finding A LOT of options but most of them leave me wanting a little more conservative USA pride (but not frumpy). The 10 below are all adorable. Most of them can be made for adults or kiddos.
To see my post on How to Make Patriotic Clothing on a Budget and get a look at my outfit for this year, click HERE.
SUBSCRIBE HERE
This site contains affiliate links to products. We may receive a commission for qualifying purchases made through these links at no additional cost to you.
BEST OF THE WEB – paint a PATRIOTIC SHIRT and go vintage
Erin of Sometimes-Homemade.com (LINK) DIY vintage patriotic shirt look using fabric paint and plastic wrap (hmm, who knew)! What she comes up with is simple and a shirt that can be worn any time of year without looking like you're marching in the Memorial Day parade.
To make this shirt, I would use a Cricut (or another personal cutting machine), Stencil Film, and paints.
Make this patriotic shirt:
best of the web – patriotic shirt applique is cute and club-chic
Aurie of OurGoodFamily.org (LINK) is no-nonsense and gets right into her tutorial on how to make this DIY NO SEW t-shirt. Guess she has to be with 5 kiddos!
If I were to make this project, I'd probably sew it but there's no need when Stitch Witchery will do the trick. This one can be done in just a few minutes! WINNER WINNER!
Let's check out what you'll need for this quickie patriotic project!
Make this patriotic shirt:
Pat Catan's Craft and Floral Store (LINK) has this incredibly easy USA flag t-shirt online as a shopper's tutorial. Not sure you need to go there as all they've done is add stars cut out of a flag bandana, add fusible web to the back, and then cut into stars. Adhering them is as easy as putting them under the iron. It's SO simple, SO fast, and SO inexpensive. Love this idea! You can cut any shape that makes your heart sing the Star Spangled Banner!
The longest part about this project is waiting for Amazon to deliver the supplies, and that only takes seconds these days!
Mandy Beyeler of SugarBeeCrafts.com (LINK) uses bandanas too for her flag interpretation with this patriotic shirt.
Make this patriotic shirt:
Amanda from JediCraftGirl.com (LINK) used the same technique but she also sewed the edges to make each star look more like an applique. CUTE! In this case, if you want to sew the edges, make sure to use Heat N Bond LITE.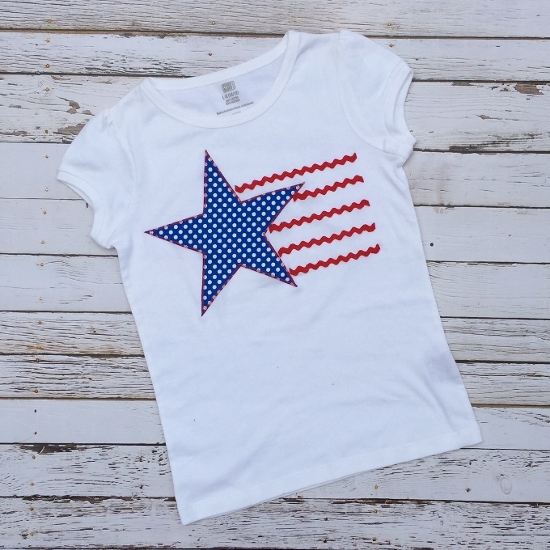 Denise from DIYCrusch.com (LINK) gives an entire tutorial breakdown of her version onthe same applique theme. It's pretty straight-forward though if you just want to go for it and break out the ol' sewing machine!
Make this patriotic shirt: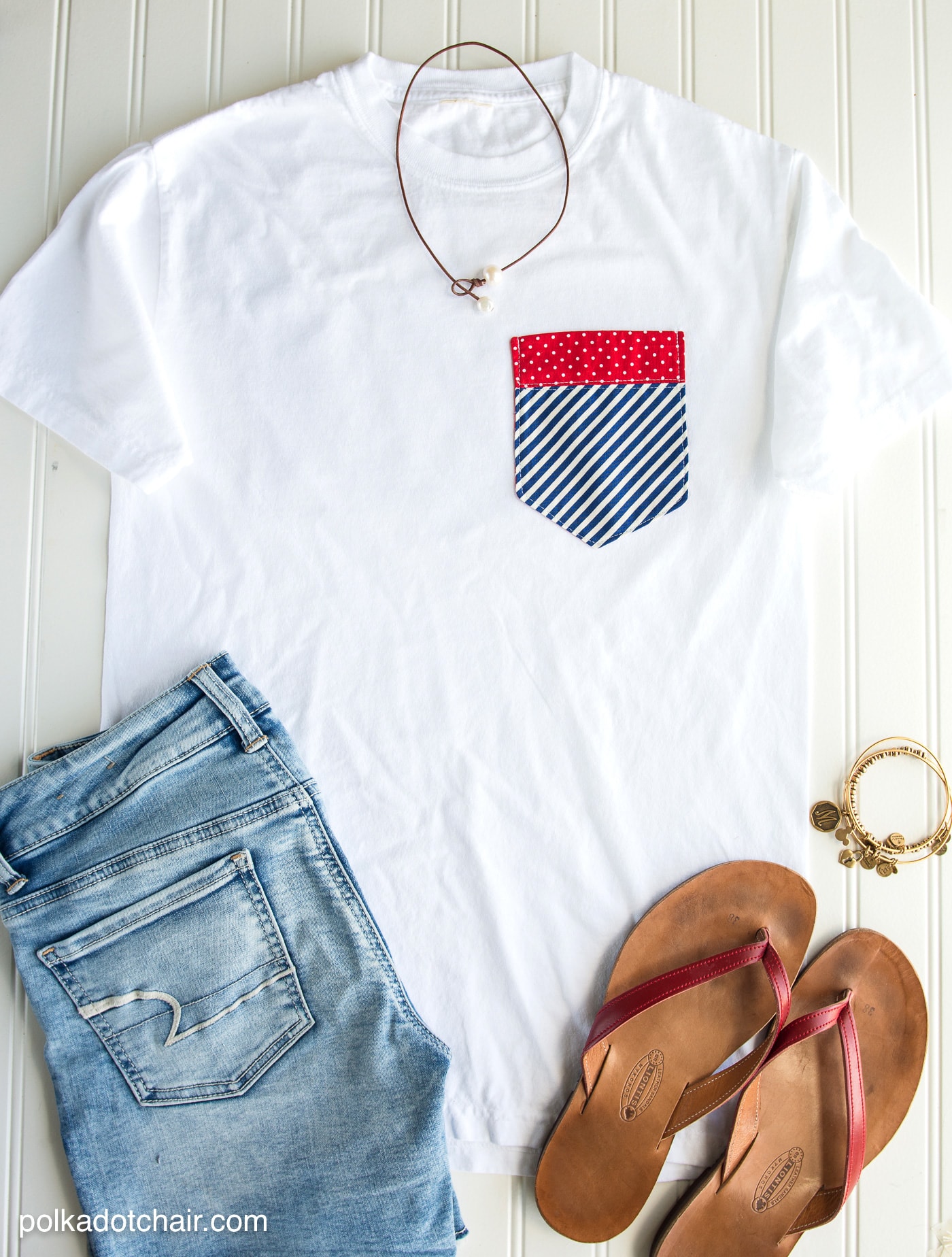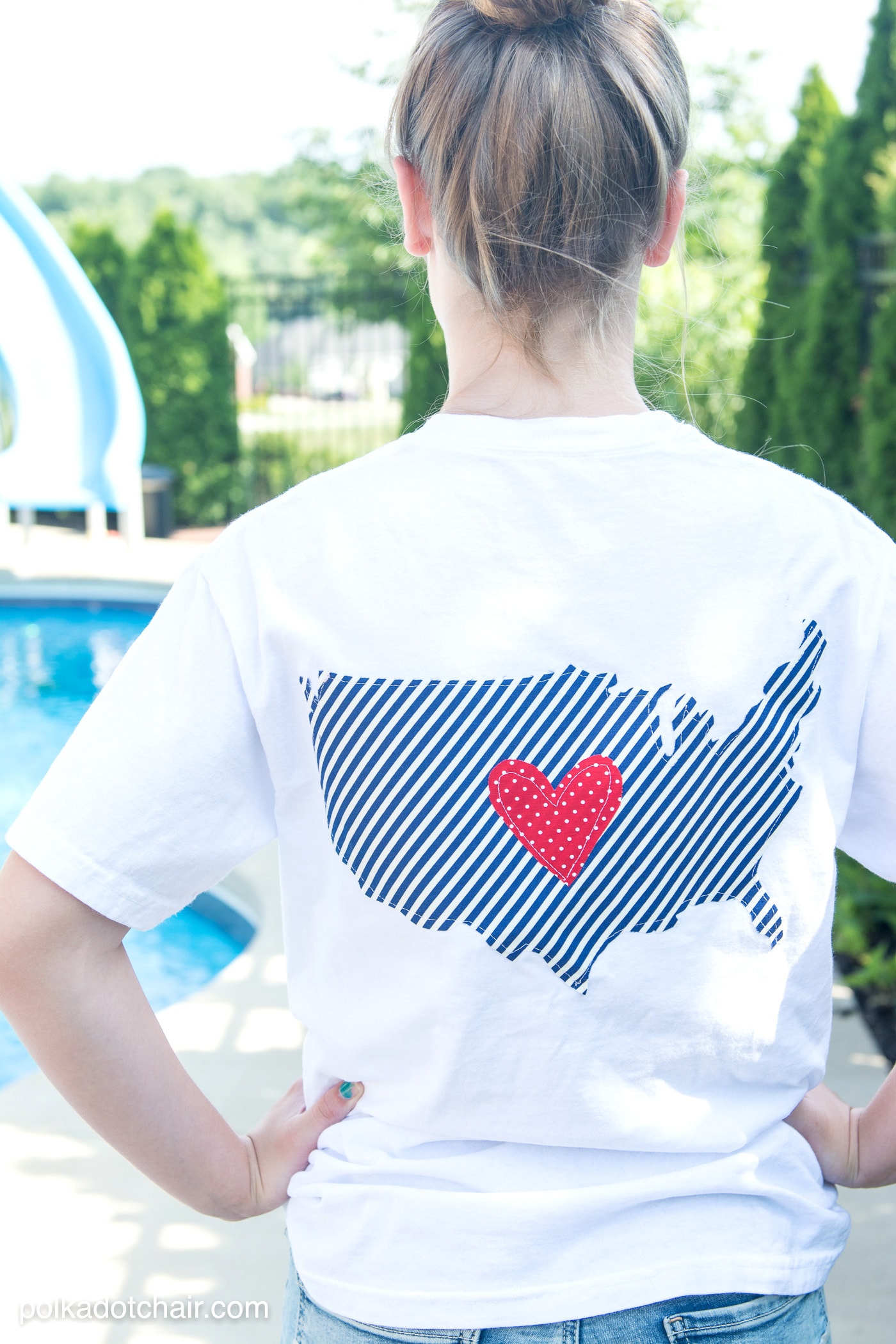 Melissa of PolkaDotChair.com (LINK) is definitely my type of DIY-gal. I absolutely LOVE, LOVE the simplicity and classic fabrics she uses in her take of a patriotic t-shirt. Did I mention that I LOVE THIS!!! (Melissa … we should hang!)
Make this patriotic shirt:
Best of the web – HTV is fast and full of usa spirit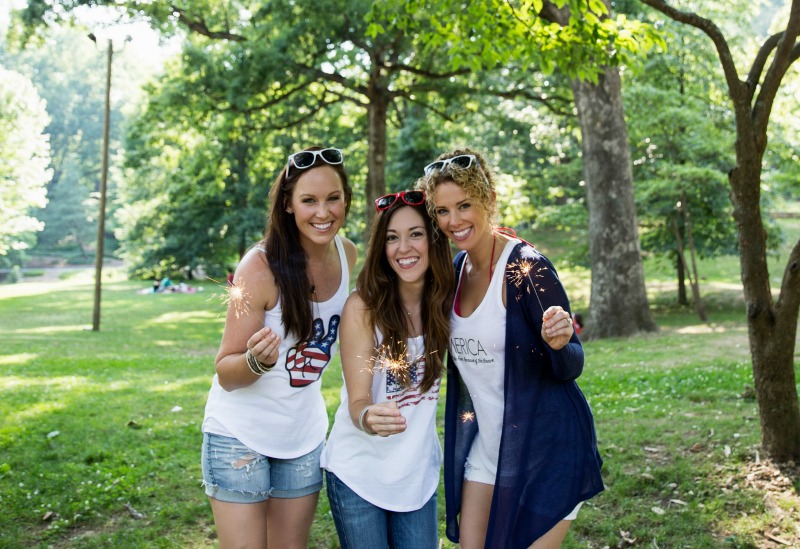 Heidi Rew of PartiesForPennies.com (LINK) and friends, Allison Farmer and Kate Caldwell, obviously know that parties are just more fun when you dress in theme. She says she's doing it subconsciously but who didn't plan a group outfit with friends while growing up? They are just smart enough to keep it going!
If you jump to her blog, you'll find downloadable files for the shirts in the picture. You can make your own using your iron and some HTV (heat transfer vinyl) without a cutting machine. Just pick a shape, cut it out, and iron onto a t-shirt.
Make this patriotic shirt:
Lily from Siser, maker of a quality line of HTV products, shows how she made this great graphic. This uses a layering technique that is worth the effort when you see the final project! Honestly, this one is easier if you use a Cricut or Silhouette.
Make this patriotic shirt:
Kim Woodward of NewlyWoodwards.com (LINK) admits to being a procrastinator. A lot of us can relate, which is why this 1-hour patriotic shirt design hits home.
This is another HTV that you can do with a couple of stencils if you don't have a Cricut. If you DO, well then I'm talking to the choir! Here's another great inspiration design that is classic, simple and (YES) country club appropriate!
There's no reason you can't simply use fabric paint and get a similar look!
For a twist, take this one to a t-shirt dress that works great from the pool to the BBQ in the evening.
Make this patriotic shirt:
what direction will you go?
That's a Top 10 Best of the Web look at DIY patriotic shirts for your 4th of July, Memorial Day, Labor Day, or any time you're simply feeling that Team USA spirit! So many of these are quickies so none of us have any excuses!
If you have any questions about how to make any of these projects or you just want me to make one for you, contact me!
Remember to take a look at what I came up with for my DIY look this July 4th. I'll add the look as soon as I get the post all put together. That means YOU need to VISIT AGAIN! I post to Instagram each new post, so be sure to follow me there too!
Have a great day and remember to always, LIVE CREATIVELY!
XOXO ALI.